Welcome to Ta-Da Tuesday! This week our link party is brought to you by The Fabric Shoppe...
I am headed home on a plane today and back to crafting- or should I say back to quilting- for the quilt along!!!
I will be announcing the quilt along, the supply list, and will have pictures of the zig zag quilt we will be making up on my blog on May 25th so be watching for that!
(There has been some confusion on what quilt we will be making, since I posted pictures of this zig zag quilt I made for my sister- but we will actually be making a different zig zag quilt that will be similar to that one, but I will be adding borders around it to set the zig zag part off more... Have I confused any of you even more?? If so... just stay tuned and it will all make sense on May 25th!:)
While I was home visiting my family for the past couple weeks, I inherited this vintage beauty.
Here are some of the most viewed/favorites of last week:
M&M Themed Birthday Party by My Darling Days
Great job guys!!! Grab a featured button! :)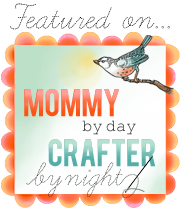 So here is to another awesome party!!!
1. Become a follower of Mommy by day... Crafter by night and or like us on FB.
2. Link back to my blog, or put the Ta-Da Tuesday Button anywhere on your blog to share the link party love!