It's time for Ta-Da Tuesday! Holy Cow- Can you believe that we have had 26 link parties on my blog so far! That is like exactly half a year of link parties!!! I am lovin' it!!
Here is what I have been up to this weekend....
The winner for last weeks awesome giveaway for The Ribbon Retreat was
I subscribe to their blog now. I also subscribe to yours, I love your blog!
And the winner for the UPrinting
Now... What have you all been up to last week?? Ready to say Ta-Da??
Here are the top 5 links from last week
Great job guys!!! Grab a featured button! :)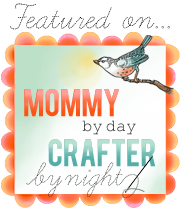 So here is to another awesome party!!!
1. Become a follower of Mommy by day... Crafter by night and or like us on FB.
2. Link back to my blog, or put the Ta-Da Tuesday Button anywhere on your blog to share the link party love!
Please remember to link to a specific post, and no links to giveaways or etsy shops. And please only link to posts with projects that you have made- No Pinterest roundups please. Thanks!!!


P.S.- I have a super, totally awesome, fun fun giveaway going up today at 8:00 am! Be sure to come back and enter- you won't be sorry:)