It's time for another Ta-Da Tuesday Link Party!!!
Thanks to everyone who linked up last week! It was an awesome 2nd party! We had 90 links!!! That is amazing!
The top 3 most viewed links were:
Psst... We have a secret by Tres Chere
Back to School Crayon Art by Sandy Toes and Popsicles
Bedroom Tour by Small Good Hearth
Some of the other favorites were:
Funky Record Clock from Polish the Stars
Un-Identical Twin Sisters by Life We Live 4
Arm Chair Makeover by Design Par Deux
Great job guys!!! Grab a featured button! :)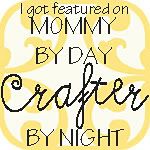 So here is to another awesome party!!!
I would love for you to:
1. Become a follower of Mommy by day... Crafter by night and or like us on FB.
2. Link back to my blog, or put the Ta-Da Tuesday Button anywhere on your blog to share the link party love!
Please remember to link to a specific post, and no links to giveaways or etsy shops. Thanks!!!
Happy Linking!